5 Tricks to Start Kid's Vegetable Garden
I have had a kids vegetable garden with my two sons for 3 years now. Sometimes it's fun. Sometimes it feels like a lot of work. But I want to share why it is always worth it.
Last year we worked in our garden together all summer. I noticed the boys out by it looking at the plants frequently, and it made me smile to myself. I thought they enjoyed watching their plants grow. When I went out to weed our carrots later that week, I realized that every single little plant was gone. I asked two little boys with big grins on their faces what happened to the carrots. They replied with even bigger smiles that they had fed the bunnies. Three months of work, water, and anticipation wrapped in organic carrots were fed to our rabbits. I sure hope the long ears enjoyed them.
(Check out our favorite vegetables to grow with the kids!)
Maybe you're thinking about starting a garden with your kids. I want to share with you 5 things that maybe you haven't thought about, but will help you with the success you are looking for!!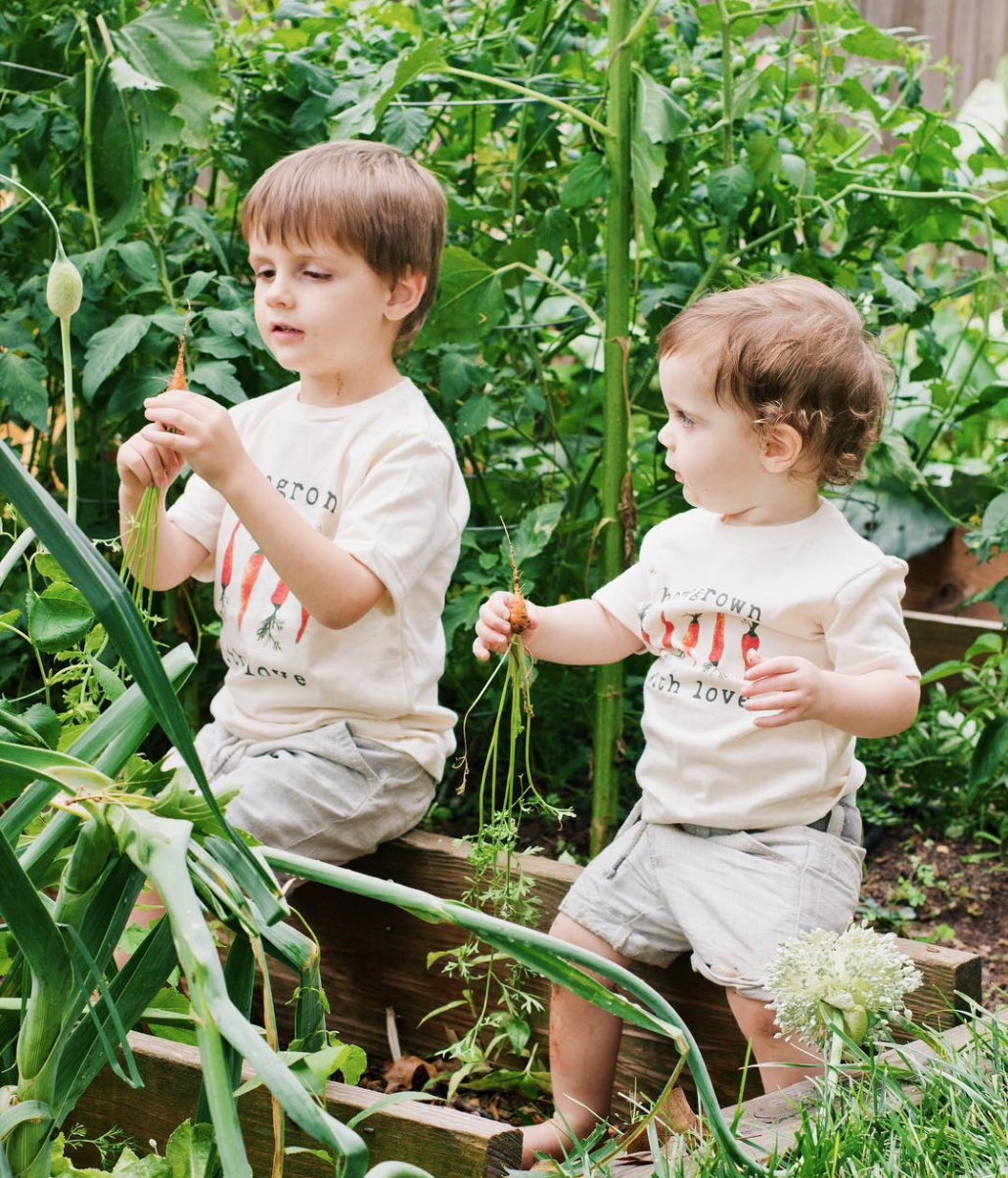 Quality of Soil Counts
A good garden starts before you ever touch a seed. Look at the area and determine if you have good soil to start with. In some parts of the country, this will be an automatic yes. When I was growing up in Illinois we just tilled under an area and started throwing seeds in. Here in Oklahoma, we have to do raised bed gardens, because the soil here is hard clay or silty sand.
To make our soil for raised beds we take grass clippings and leaves that we mow up and combine them in a bed. We add wet garbage and cover it with a layer of our bunnies poop and dirt. By the next spring, it's beautiful dirt. A faster route is just to go buy soil. It's not super expensive. Maybe you can build your dirt supply from that in future years.
Create a Garden Plan
I try to pick veggies that I know the kids will love, and some that they can pick themselves. The goal of this is to help them enjoy vegetables and to help them enjoy the process of growing them. Keaton asks for beets and sugar snap peas every year because he loves eating them. He helps himself to sugar snap peas while outside playing the whole time they are in season. That's fresh raw veggies that I don't have to talk him into eating.
Here are the ones we usually choose: tomatoes, peppers, basil, sugar snap peas, lettuce, spinach (for smoothies), cilantro, beets, carrots. I found this garden pesto recipe that's beautiful and delicious. GARDEN PESTO
Leave "White Space"
Remember, veggies grow, so when you're putting those set plants in they won't stay that small forever. The first couple of years I made the mistake of not leaving enough room between the plants and my poor basil, lavender, and cilantro died as a result. Be sure to leave lots of space between large plants like squash and tomatoes. It will look sparse in the spring, but they will fill it up as the summer progresses.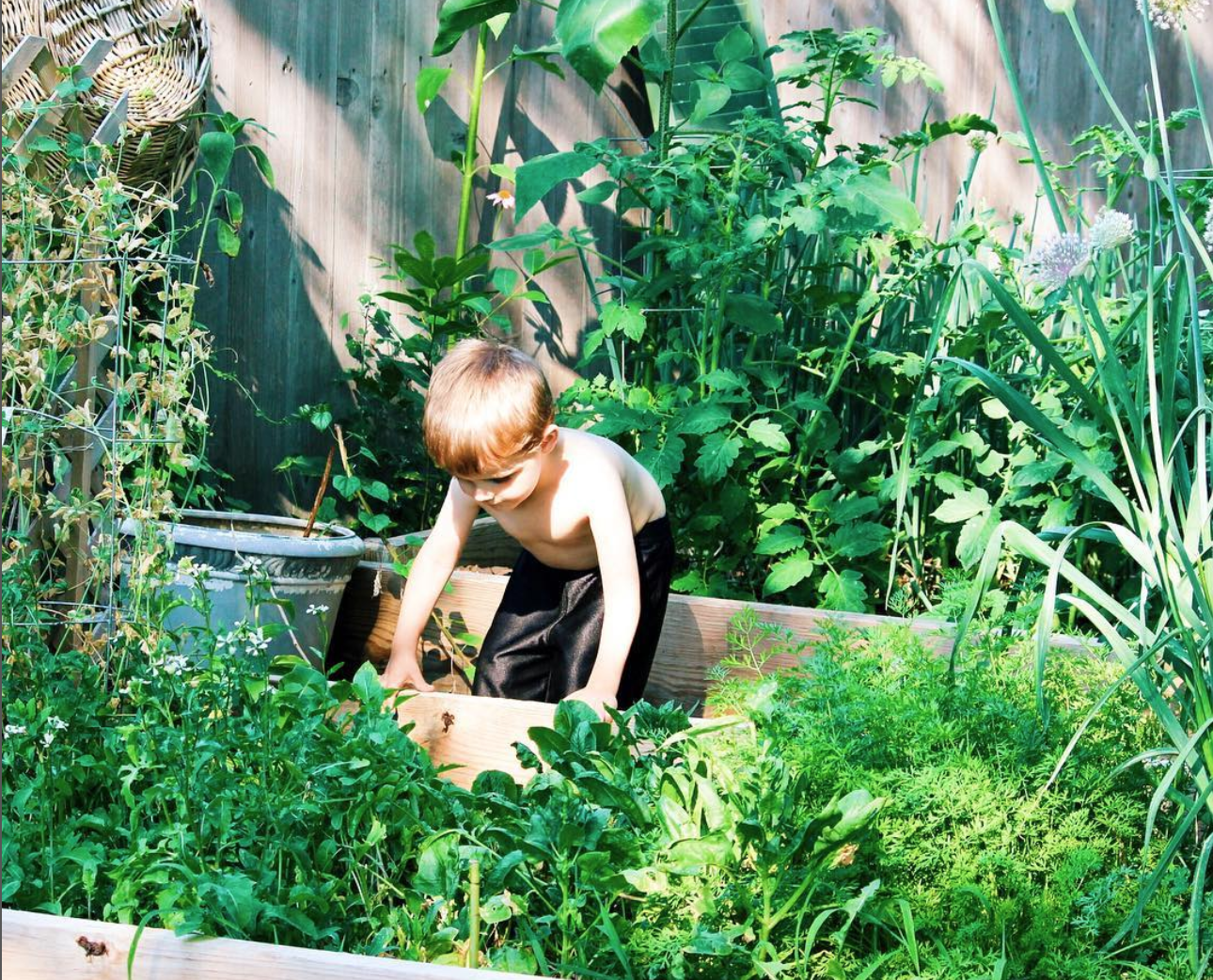 Involve the Kids
Let the kids help. Show them how to sprinkle the seeds. Yes, they may get too clustered together, but they can't take ownership if they don't help. I still have to remind myself of this all the time. Give patient verbal direction, and you may be surprised how well they do… or not… you never know.
Allow the kids to harvest the veggies. Often I get too excited when I finally see that fresh tomato, or the ripe pepper. I want to be the one to claim the work that I've done. But remember to call the kids over and celebrate together has ALWAYS paid off. Usually, they just want to eat the raw veggie on the spot, and hey that's a win right? Also, know, they may only care about the worms you find, and not about planting or veggies at all.
(Then, when they're done, send them off for a nature scavenger hunt!)
Perfect isn't the Goal
Calm down, don't sweat it. You may feel like you flushed $30 down the toilet at the end of the year. But be clear about your goals upfront. If you want to fully feed your family from your own land, then maybe buy a farm, you probably won't get that from a hobby garden. If you want to teach your kids about where things come from in a way that's more fun than a science book… then the hobby garden is your space. I have learned these tricks to make it easier.
Kids need to learn how to grow things. It helps later in life with practicing gratitude to know how much work goes into growing their food. They need to have some connection to the earth. The slow and tactile nature of gardening is GREAT for kids. Why do you think the trends are moving toward wooden baby toys? Because kids love the feel of "real" and natural things. I'm don't have my master's in education, but if you want to read more of these ideas check out Simplicity Parenting. I've talked about that book before and it's well worth the 10 dollars that it costs.