Year-end Questions I'm Asking
I didn't come up with all these year-end questions I'm asking, so I hope you'll forgive me if you see some of them somewhere else. I don't remember who or where I found them all, but odds are the podcasts "Next Right Thing" and "10 Things to Tell You" were influencers. Some of the wording has been changed to suit my lifestyle and I'm guessing it may be helpful for you too!
What Worked/Mattered in 2023?
It's easy to get so caught up in our routines that we never stop to consider what we've outgrown. Taking a few minutes to think about what is working helps me to prioritize continuing those things with more intentionality. Some things that worked really well in 2023 were:
Doing a load of laundry every day
Listening to audiobooks
What Didn't Work/Matter?
Sometimes I keep doing things that aren't working for me anymore. Usually, these are things that worked for a season in the past but we've outgrown them as a family, or I've outgrown them as a person. Here are some things that aren't working for me anymore.
Rocking chair in the nursery… I want it in my room for quiet time.
Perfect silence all day… I need to turn on music for the kids now.
Guest blogging. It was a lot of work but didn't get much by way of results.
Morning routine… It's a little too simple and they can take on more.
What Goals did I Meet?
It's so easy to keep our heads down and plow forward without ever looking at or celebrating what we accomplished. Take a little time to celebrate what you accomplished this year.
Taught Keller his colors
Repaired the bathroom wall complete with paint
Read a lot of books (didn't make my goal, but I read a lot)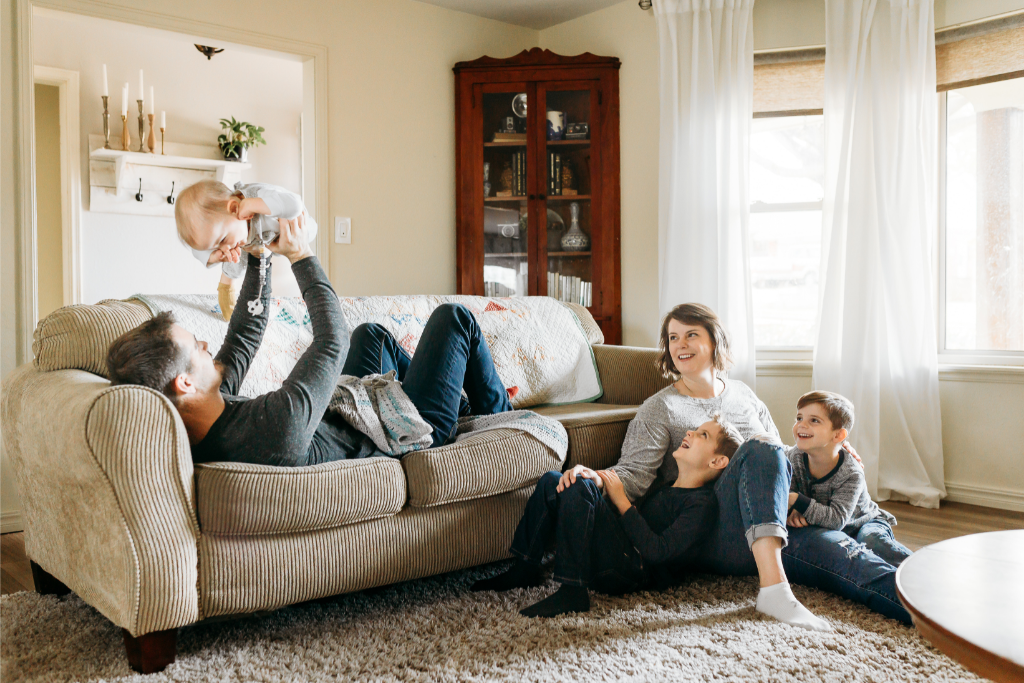 What Did you Learn?
Reviewing the lessons we learned is so important. It's so much fun to look back on from previous years. I find writing down what I learned really helps me to solidify the lessons in my life too.
Where do you Feel Stuck?
I find it so so helpful to write down those stuck places. Writing these as questions really helps me to start thinking through them. Often an answer reveals what the next step is supposed to be soon after I've taken time to write the question down.
Why is handwriting a struggle for my child?
How do I add fitness into my schedule?
How can I limit screen time even more?
What was it Like at the Beginning?
The year isn't linear. For this question, I try not to focus on what is just happening now, but to think about the year holistically. What did life look like when the year started? Did it change? This can also be applied to how things changed on a project.
How did sending the kids to school look at the beginning?
What was it like attending a new church?
What Were the Important Things you Learned?
I find I often learn the same lessons over and over and over. Writing down what I learn helps me to review it in future years. Sometimes reading back over this list reminds me of something that used to work, but I forget to keep doing. Other times it shows how much I've grown.
What Entertained you?
This is where I put the top 5 books, podcasts, movies, audio books, places we visited, speakers, and more. Writing down what I loved is like a little time capsule! It's so fun to look back. There are too many for here, so I'll do a round-up soon!
Who Mattered in Your Life?
As sad as it is this also changes from year to year. This is a time capsule question too! It's fun to look back and see as relationships change. People who weren't important a few years ago are now my ride-or-die friends. People who used to be besties have moved and people who were outer ring have moved to the bullseye. I try to at least list my inner five.
What Changed this Year? Why did it Change?
I moved from having a nursing baby to a toddler. I started my kids in a drop-off program. It's so much fun to look back over these milestones and also to remember my why!
What is Ending?
Seasons of life change. I like to take note of them each year. It makes it easier for me to let go, and move forward. It also helps me celebrate when hard things are ending.
Sleepless nights are ending because our kids mostly sleep at night.
A business I tried, didn't work the way I planned, so I'm ending it.
The time of my boys in toddler beds is ending as we move them into bunkbeds.
Where did you Find Happiness?
This is close to a gratefulness list for me. Writing down what brought me joy helps me enjoy those things even more. For me, this is a form of savoring what makes me happy. The end of the year and the beginning of the year can seem like it has a lot of pressure, so when I remember to list what makes it a little lighter for my heart!
What Were the Fun Moments?
I love going back to write memories into my planner. Things I remember and want to hold forever. A moment in school. A note from a trip I took that I want to remember next time.
What Makes you Come Alive?
Someone described this to me as "What makes your body lift when you think about it?" and on the flip side "what makes you feel heavy and dragging?" Sometimes we can control bringing more or less of those things into our life, but often we can.
How are you Feeling Most Days?
I've been most surprised by the answer to this question. This year when I saw this question I thought, "Oh, well this is silly. Life is so lovely." But when I looked back on last year's answer it looked like this.
"Exhausted, overwhelmed, and inadequate. I struggle to see my success and constantly see everyone else doing the things I wish I was doing."
Last year I was still up at night with a baby, exhausted, and the brain fog was unreal. I was full-time homeschooling without a break, and it was breaking me. Seeing what my answer for last year was helped me realize how much change has happened in the last year.
What do you Have a Passion for?
You know what you're called to often by what you feel compelled to do. What is that dream you just can't get out of your head and heart? Write it down. It may not happen today or tomorrow, but just see what unfolds!
Do you have questions you ask at the end of the year?