These Summer Grilling Recipes are an amazing way to eat healthier foods and make meal planning a breeze! In our city, they have SmartHours which means electricity is more expensive from 2 pm-7 pm which means I'm always looking for ways to keep the electricity usage down, and also keep the house cooler.
I discovered last year that making ahead meals for the grill is one of the easiest forms of batch cooking. So I want to share my method for batching food all summer long that makes eating at home, and healthy easy all summer long. Doing it almost every day also saves a lot of money!
Grocery Shopping for Summer Grilling Recipes
When I grocery shop I look to see what I can find on sale. Most often I'm looking for boneless chicken thighs, chicken breast, or pork loin. We get grass-feed beef from my brother's farm or I would be looking for that too. If you're local and need a good place to get farm beef Bachman's Farms is a good go-to.
Since I'm prepping ahead I usually get two packages of what is on sale and hold off on buying any cut of meat that's not. After a week or two, my variety is pretty well-rounded. If you don't prefer grilling I also have another post of recipes for the crockpot.
(And this recipe is the one I always make for new parents or those needing a warm, yummy meal!)
Upon Arriving Home
Before putting any meat in the freezer, I break it up into amounts that my family will eat in one meal. I cut up the loin, or chicken breasts and usually, a package of meat makes 4 ish meals for our family. I use pint ziplock bags, but I don't seal the top yet. After that, I prepare 2 or 3 marinades and dump them into two bags. This gives me one meal for that evening, and then I freeze the others for meals to come.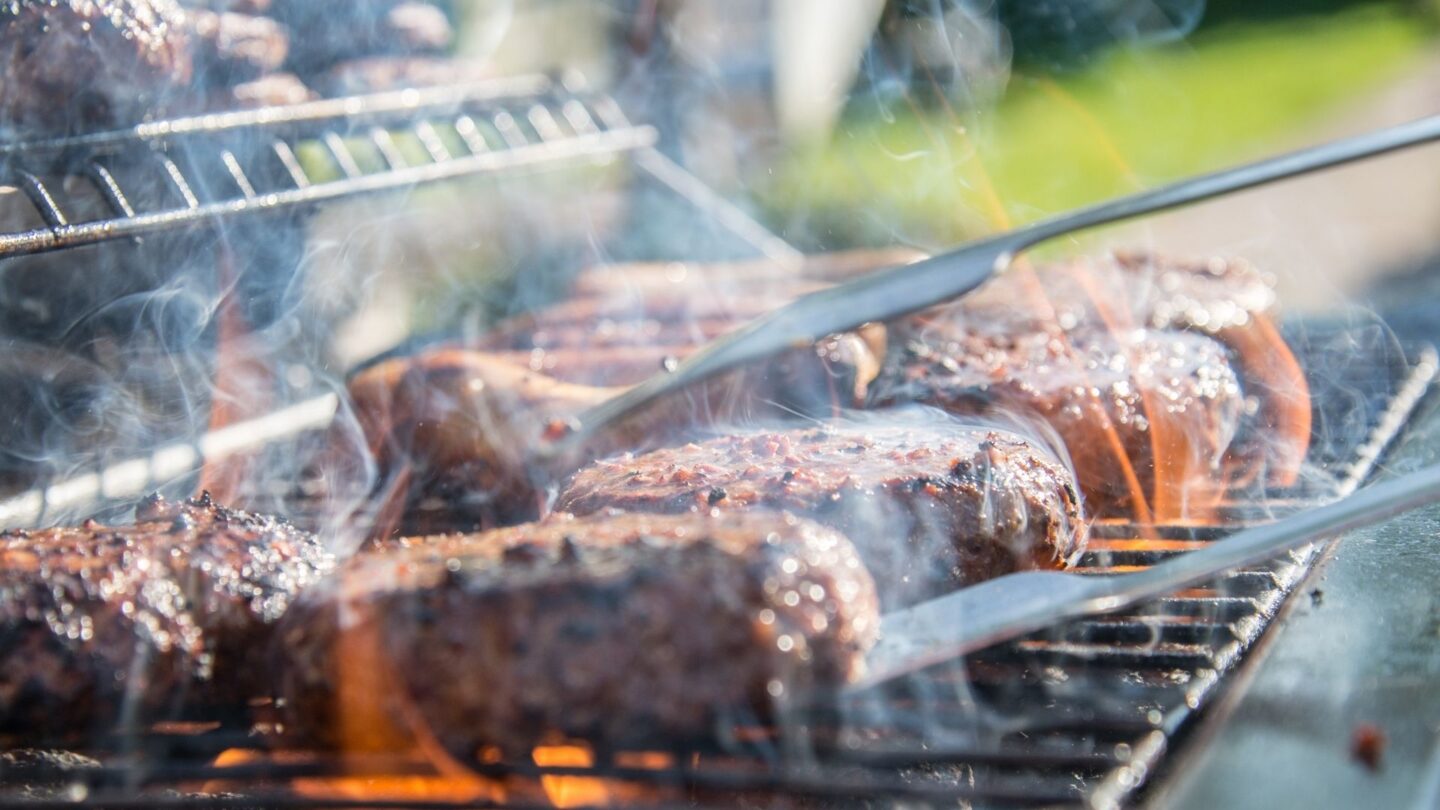 Favorite Marinades
Honey Garlic Chicken
1/2 cup Soy Sauce
1/2 cup honey
1/4 cup Ketchup
1 tsp Oregano
1 tsp Garlic
Red Pepper to taste
Jalapino Popper Chicken
2 chopped Jalapenos
1/2 brick cream cheese
Massage the chopped Jalapenos into the cream cheese and then slit the chicken breast or pound out the boneless thighs to be flat. Then smear the mixture on one side (or in the slit) and pin it shut with toothpicks.
Korean BBQ Marinade
1/2 cup soy sauce
1/2 cup water
2/3 cup brown sugar
1/2 tsp ginger
2 cloves garlic
1 1/2 tsp rice vinegar
1/2 tsp sesame oil
1 Tablespoon corn starch – whisk together and pour over the meat.
Carolina BBQ
1 cup yellow mustard
1/2 cup honey
1 Tablespoon Ketchup
1/2 cup light brown sugar
1 tablespoon chipotle pepper
1/2 cup apple cider vinegar
2 teaspoons Worchestershire sauce
1 teaspoon garlic powder
Pepper to taste
Honey Garlic Pork Chop
1/4 cup Honey
2 cloves Garlic
2 Tablespoons Dijon
Splash of Olive Oil – Boil it all together and pour over the meat
Even Easier
I have done Ranch chicken/pork. Whisk ranch powder into milk and pour it over the meat.
There is a Head Country seasoning that I just sprinkle over it and then throw it in the freezer.
McCormick also has some marinades that only require vinegar, oil, and water. Our favorites are the Brown Sugar Burban and Garlic and Herb