I made these 25 freezer meal recipes in 3 hours. Some were for my family and some were for a friend who is about to have a baby! It's super easy really and has saved me so so much cooking and prep time over the next 2 or 3 weeks.
Personally, I hate reading someone's whole life story before I get to the recipe, so I recorded this 5-minute podcast episode talking through how I meal prep and what makes it easy! Hope by the time you're done listening you feel like you can easily do it too!
I know some people are weird about crock pot meals. If you prefer to grill meat over the crockpot, I also have this full recipe list! Hum, maybe it's just time to write a cookbook! Plus, this is the recipe I love to take to others when they need a yummy and warm meal!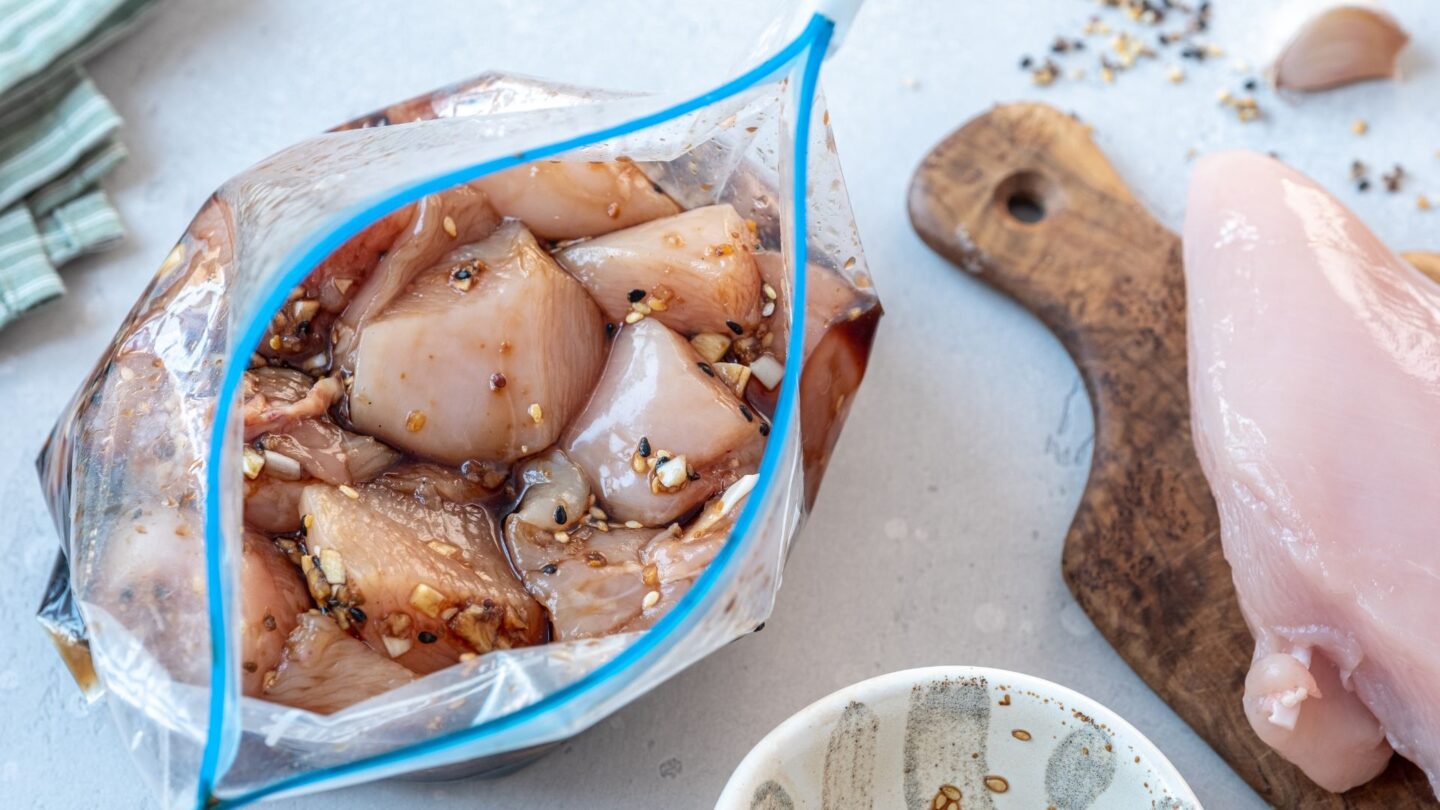 Easiest Method and GF/DF
These are all just chicken. The easiest way to start is to pick one meat so these first recipes are just that! If you want more variety keep scrolling! Those are coming next!
Italian Chicken
Chicken (I do 3 breasts for our family size)
1 bag broccoli
1/2 bag frozen carrots
1/2 bottle Italian Dressing
I cook this for 6 hours. Then I take my electric egg beater and shred it! I serve over rice. I have my rice recipe and method next!
Day of Rice
2 cups Rice
4 cups broth (whole container the way it's sold)
1 tsp Salt
2 Tablespoons Butter
I put it all in my instant pot and push the rice button. It's usually done in about 20 min!
Soy Garlic Chicken
1/2 cup Soy Sauce
1/2 cup Honey
1/4 cup Ketchup
1 tsp Oregano
1 tsp Garlic
Red Pepper to Taste
I dump this sauce over two bags of chicken with three breasts each! In each bag, I also put some carrots and broccoli. I know Ketchup feels like an odd addition. It weirded out a little bit the first time I saw this recipe, but it's really delicious and I've only adjusted it a little bit! I also serve this one with rice or quinoa.
Taco Chicken
1 tsp Chili Powder
1 tsp Paprika
1 tsp Salt
1 tsp Garlic (could do a half, but I love garlic)
1 tsp Cumin
1/2 tsp Black Pepper
Put one of each of these into each bag of chicken. I have the chicken in each bag with the mouth of the bag open and just go down the line. One tsp chili power in each bag, then one tsp of paprika, and so on. Saves you soooooo much time!
Pre-Mixed Seasonings
There's no shame in the pre-mixed game! It still saves time! If you want to just buy a bottle of seasoning like McCormick's and put a couple teaspoons in each bag it will still save you deciding power on the day of to just open a bag and dump it in the crock pot.
Other Meat Freezer Meal Recipes (not GF/DF)
Okay, so my favorite way to add pork is to buy a pork loin and then slice it into thirds for individual roasts, or into chops. It is cheaper than buying them in smaller containers.
Garlic Soy Pork Chop
You can use the recipe above or this one.
1/2 cup Honey
4 Cloves Garlic
4 tablespoons Soy Sauce
2 Tablespoon Dijon Mustard
1/4 cup oil
Boil or heat in the microwave until everything mixes well. Split between two bags of pre-cut chops.
Crockpot Taco Chicken
In each bag put the following ingredients.
1 cup salsa
1 Tablespoon Cumin
2 Green peppers (cut into strips
Ranch Chicken or Pork Chop
This is one of the easiest recipes to start with and a HUGE hit at my house. I put all these ingredients over 2/3 breasts!
1/2 pack Hidden Valley Ranch
1/2 cup milk or half and half
Broccoli and Carrots if you prefer
BBQ Pulled pork
My mom's favorite grab at the deli meal was bbq pulled pork. So I cook a big one and divide it into meal-size portions. For some reason if I make it and expect people to eat leftovers it goes bad, so this works great!
1 pork Loin
2 cups BBQ
2 Tablespoons of Dijon Mustard
When it's cooked 4-6 hours I use the egg beater to shred the meat or I put it in the Kitchen Aid with the paddle attachment to shred it that way. Then I divide it into individual bags.
Meat Loaf
My husband loves it if I make a double batch of Pioneer Woman Meatloaf and freeze it. Each recipe is two meals for our family, so it works out great to do it this way! I'll link her recipe since it's the only "not gross" meatloaf! My hack for this is saving the heals off the loaf of bread and keeping it in a bag in the freezer for meatloaf!
Hope these freezer meal recipes have been helpful. I also wrote this post about how to cook and eat at home more often! It has so many methods that I use to help save our family money!