7 Encouraging Books for Christian Women
I haven't done a book recommendation list for a while, so I thought I would let you know what some of my most favorite books for Christian women are for this year. All of these would make fantastic gifts. (Not to mention these fun gift ideas for any minimalistic-loving friend you may have …) I saw something the other day that had well-rounded gifts being something fun, something you need, something to wear, and something to read. So this will check off the to read that section of that list for you.
Anyone else slightly intimidated by the books of the prophets? So many of them seem to have the tradition from the past woven in with prediction of the future. Nancy does a beautiful job of sorting through the Old Testament. Each book shows us how the gospel of Jesus is present even where it seems harder to see. The beauty of the plan of salvation from the beginning of time was enough to make me weep with joy.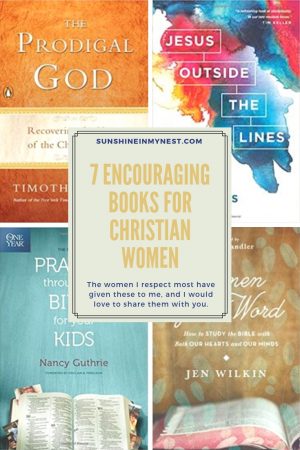 I'm so tired of hearing believers criticize one another. I hear claims that the way they are reading the Bible and practicing Christianity is the only way that is pleasing to God. Scott Sauls did a beautiful job of drawing appreciation for all people who love Jesus but in different ways. To be able to hold personal conviction without figuratively shooting down our fellow believers.
This tiny little book packs a powerful "how to" punch. If you know someone who wants to learn to study the Bible in a way that can be understood, this is a great place to get started. I also found out she has an amazing Podcast and downloadable resources on I think 7 different books of the Bible!
My husband and I like to have a book we read together every year that will help keep our marriage strong. When we asked what one to do this year five of our most trusted friends recommended this book. It did not disappoint.
Anyone like me struggles to know what to pray for your kids? This book has a short reading on how to prepare your heart for the peace for prayer and then a prayer worded in a way that is aligned with scripture. The book is well written, so it works no matter the ages of your children. The more I do these the more I find myself worrying less and trusting God for the outcome more often.
Check out this post about pocket discipleship and the 7 ways I bring the Gospel into our everyday, ordinary moments!
I was the kid that wanted to do the things my parents wanted me to. I was under the impression that somehow this made me a better Christian. In reading this book I saw the beauty of all types of people and the way that God uses different things to draw us to him. I gifted this book to my dad the Christmas after and it has become a family favorite.
Have you ever felt like you didn't measure up in life? Have you ever wondered really how much does God love you? Our lives are heavy on what we should do and short on grace—what we are expected to do keeps piling up, the failures continue to stack, and panic sets in. This book points to relief from the guilt, anxiety, and uncertainty of daily life.
For more book recommendations you can visit HERE or, if you enjoy Sally Clarkson, check out my review on her book, "Different."