Simplify the Disaster – Create a Peaceful Clean-up
Two small boys and one disaster zone of a messy room lead me on the quest to simplify what we kept and what we chose to give away.
Before my oldest was born we prepared a nursery and play area for him. I carefully bought the clothes, picked out some cute toys and prepared for birth. After he was born, people kept gifting us hand-me-downs. Before we had even gotten 9 months into the parenthood gig, I realized it was all getting out of control. The toys I assumed they would love were unused.
Another year or two later most of the toys were only being used to dump out on the floor to make messes. They were the object of 1,000 tears when it was time to clean up. I decided to dump everything out myself and take out everything that I never saw play with. I am simplifying the space by only keeping what is dearly loved and can be used for lots of creative pursuits.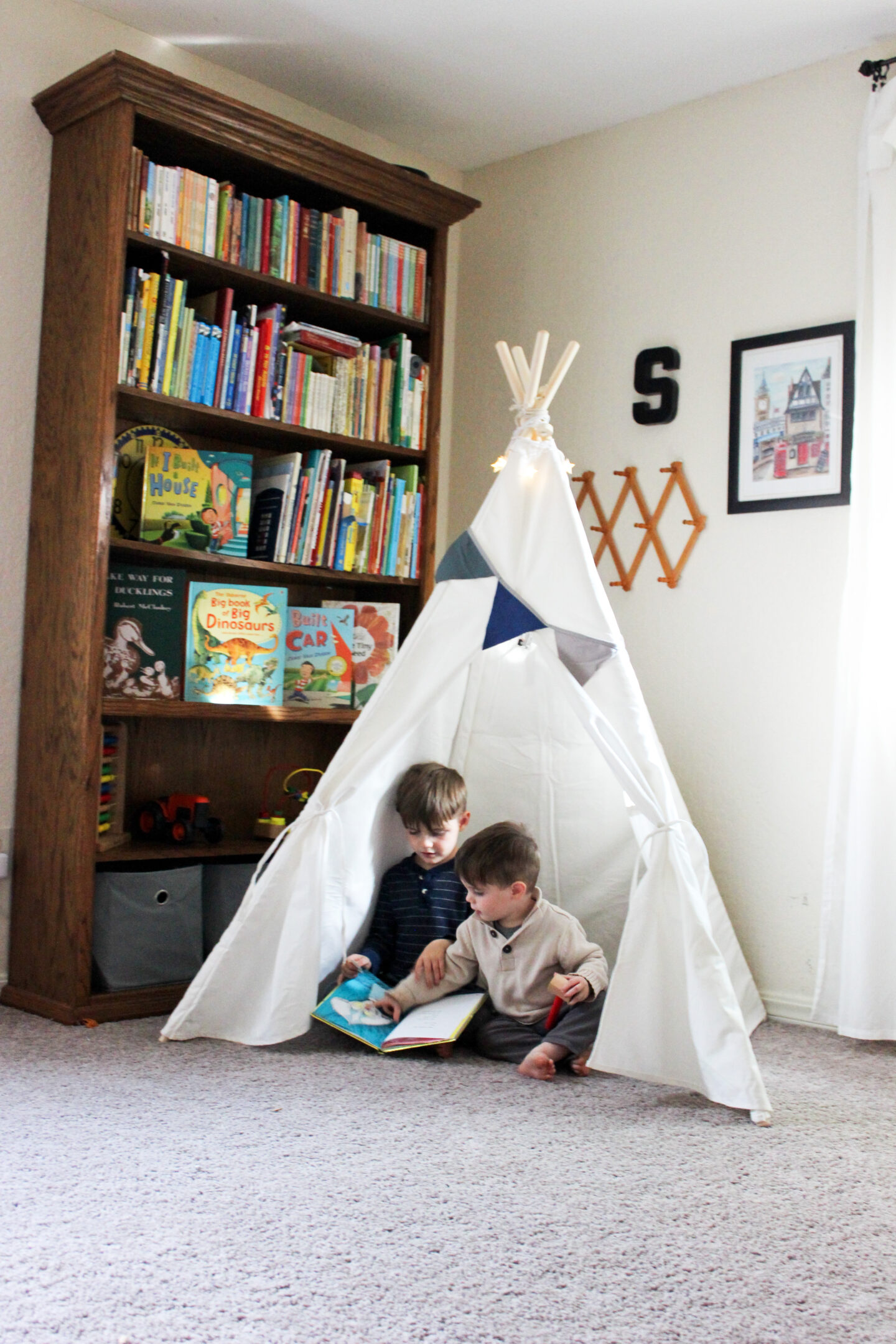 Here is what we kept
I kept anything that was part of a set, but only 3 sitting out at one time (trains, tools for the bench, Legos, and magnet tiles).
Anything with texture interest (things made of wood, metal matchbox cars, and cloth dress-up clothes)
Things with emotional attachment (One special stuffed animal, blankies, and binkie)
Lots of art and writing supplies and a pile of paper.
Rich children's books with beautiful illustrations, and wide vocabularies (board books, chapter books, and picture books.) Check out this list of our favorite board books and this list of our favorite picture books!
Here is what I threw out
Anything with batteries, buttons, or lights (with the exception of the piggy bank and a flashlight)
Any toy that celebrates a character. This focuses the child on playing things from a movie. Toys like this fix in their mind how that toy is to be played with.
Anything that claims to be educational. Play in and of itself is educational. Don't try too hard to take over your child's play. Allow it to be theirs to enjoy.
Duplicate toys just because your child has one stuffed he loves doesn't mean he needs ten. One loved thing bought several times doesn't multiply the love, it just makes the first one harder to find and enjoy.
Toys that break too easily. For my kids, they are an emotional meltdown waiting to happen…
Offensive toys have permission to go. Don't keep something in your house that annoys you every time it is used.
Random toys especially those from fast food stores and dollar shops
Throw out all the trash mixed in with the toys.
Anything broken, having it around will just remind the child that it isn't available anymore, and will bury available options
Toys they have outgrown – as soon as my babies are past the age of scrunchy balls and rattles. I pack up all those and the teethers to wait for the next baby.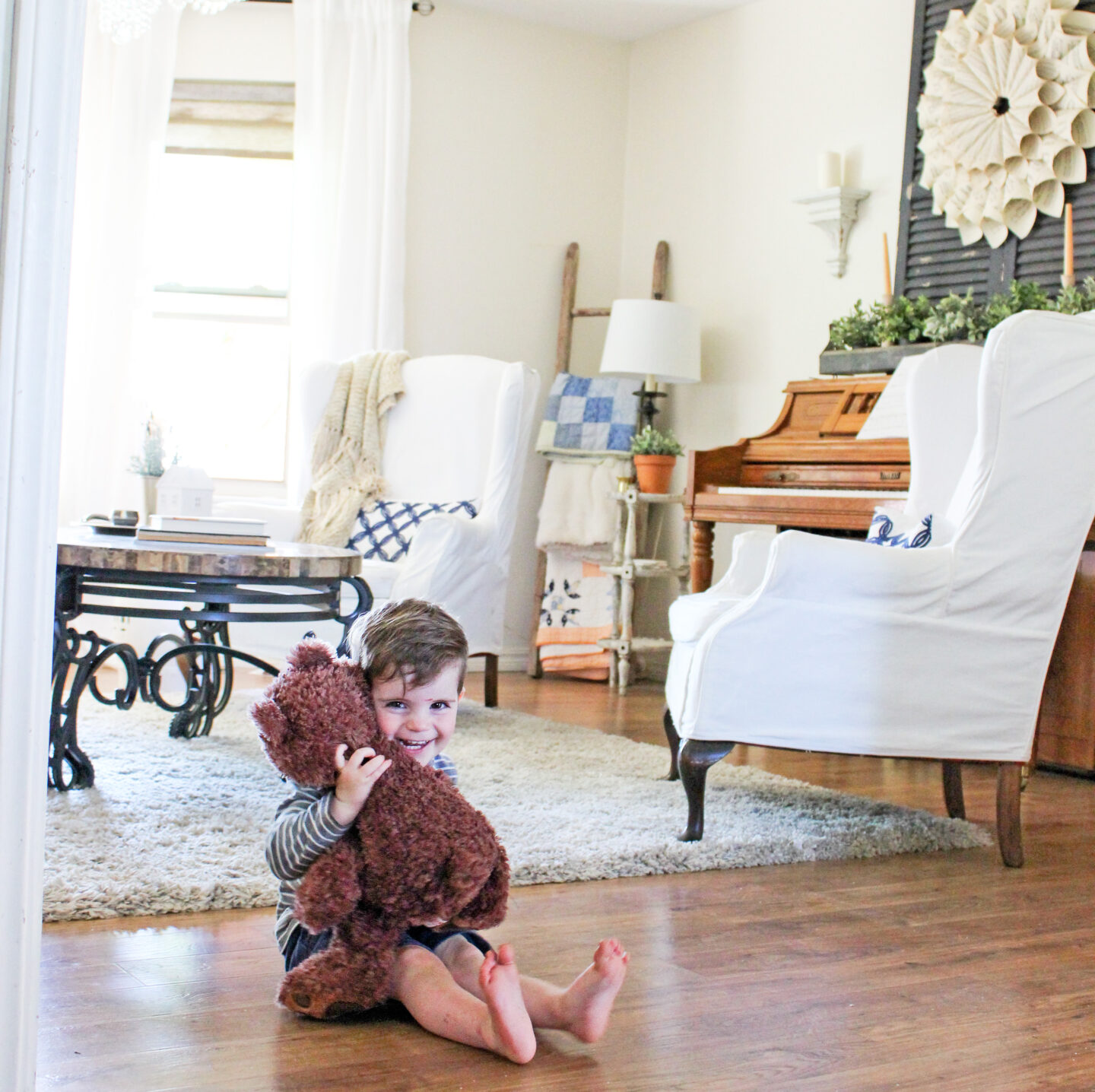 Did it work?
Right after this kind of clean up the boys go silent for hours playing. They can clean up so easily that there are no tears. We are experiencing fewer tantrums because cleaning up is an easier process.
(Especially since they are now old enough to have their own chore chart!)
I also made a list at this time what we needed to add. The kids loved the magnet tiles we bought them, but there weren't enough in the set. Last year we bought second set to add to it. This gave them even more play options.
Each time we go to IKEA we also pick up another addition to their train set, so it's become enough that they can build a world rather than just a tiny circle or figure eight.
(Read how we made over the boy's room and homeschool area with some Ikea finds!)
This is really an extension of how we have chosen to live the rest of our lives and how we raise our family. Bringing less into our home, so we can clean up more easily and spend more time on the things we love! You can read more about that journey here at this post: Gentle Minimalism Could Change your Life