This is the list of our best picture books. We love reading! These are the books I've chosen to spend money on and would buy again if the house burnt down. They are the books I dream of reading to my kids and grandkids. If you want our list of Board Books it is here!
I often want to know why people like a book, not just the title. If you prefer just a list that is easily printable. I will provide a link to a PDF of our best picture books at the bottom.
(Plus, visit here for our favorite faith-based books or here for our favorite picture books!)
This book is a series about a boy and his horse. The charcoal drawings that go along with these books are stunning. There are tales of adventure, bravery, and friendship. Set in the 50s they are a relic of time passed, but in all it's best forms.
This book is about a little orphan girl who lives in a convent with nuns. The conclusion always makes me giggle. It's not "word dense", so it's pretty easy reading for a tired mama. It's set in Paris so it's fun to make the kids familiar with the iconic landmarks.
This is a whole collection set in Great Brittan. I read them again and again to the boys. The copy I've linked is also very durable and held up well with all the use. There are such fun things Paddington does that we don't do in the US so that is a fun little cultural bonus.
This is a beautiful living book about how seeds grow and become new plants. I don't love all Eric's illustrations, but this one is particularly beautiful!
Personally, this is my favorite of all the books I have read to the boys. The illustrations are beautiful. This book is set in Maine, and talks about the process of life, aging, and making the world more beautiful in the process!
This book is so funny! It's about kids that don't want to go to bed and are afraid of the dark. It's also been fun to have discussions after we've read it about being scared of the dark, and that grown-ups come back.
A mouse that convinces the entire forest that he is the most dangerous animal. With animals like owls, snakes, and foxes taking center stage in this book, voices make it a ton of fun for you to read and the kids to listen.
Is a magical tale of an old woman with a magic pot that makes pasta. When an unfortunate boy decides to try his hand at it while she is away, chaos ensues. This style of story is in keeping with a child's large imagination.
This is a precious story on almost every book list. I loved it as a child, and my children love it. It's the story of a bear that comes to life in a department store. After a night of adventure, he finds a child to take him home and become his friend.
In this story, a little badger only wants to eat bread and jam. She refuses all other foods and eventually discovers that only eating one thing is boring and if you try foods often you end up liking them.
Two stories about picky eaters in a row. This one is also written in a humorous tone (are you catching a theme in my list?). It is the story of one mom trying to cook 7 meals for seven children and the chaos that follows.
Set in Spain, Ferdinand isn't like the other calves. While they enjoy fighting and butting heads he likes smelling flowers. One day the matadors come to find the fiercest bull in all the land. In a surprising turn of events, Ferdinand is chosen. All ends well for the little bull, but it is hard to explain when kids start to realize what the tradition of matadors involves.
Tacky lives in Antarctica, but doesn't fit in with the other penguins. They all sing and march together, but he is loud and clumsy. When hunters come his crazy antics come in handy. My kids are always screaming with laughter by the time this book is done. And singing as dreadfully as you can is a must.
We bought the treasury on the recommendation of several friends and we haven't regretted it one time. These are timeless stories for a reason. The tale of Frog and Toad's friendship is real, humorous, and has brought our family so much joy.
Sal and her mother get separated while picking blueberries for jam. A little bear and his. mother gets separated. Each baby finds the wrong mama, and then quickly each mother locates the right baby. It's a simple story but Rober McCloskey has a way of making simple concepts magical.
This is the book that I buy for every mother that tells me they don't already own it. I keep my out at thrift stores and sales. The illustrations are stunning and set in Boston. The list of ducky names is fun to read and there's really nothing cuter than baby ducks, so a win in every category.
This book has MAYBE 20 words but is so so funny. It's a new one to us but has been added to our collection of favorites while barely out of the gate!
This book fell apart in record time. Mostly because small hands couldn't stop looking through it. I need to buy another copy, as it was worth every penny for the moments of stillness it provided. It has lots and lots of detailed illustrations to look at. It wasn't my favorite to read aloud, but brought joy for other reasons.
The Stray Dog is another story that tells a lot through pictures. It's about two children who rescue a stray dog. He brings them so much joy and they bring him joy as well. It is one my boys have brought to me over and over again.
This is the story of two ants that decide to stay in a kitchen because it is close to the sugar. This plan goes horribly wrong. Cedric's eyes light up every time I pull it out. Misadventure is his favorite kind of adventure.
This is on the boy's birthday gift list. We brought it home from the library and kept it so long we paid fines. It's on hold now so we can get it again. This book is the story of animals that escape a circus and become beloved by the town. When the circus comes to find them, the townspeople hide them, so they can stay.
Chris Van Dusen is my favorite illustrator. These "If I Built" books have detailed illustrations and imaginative takes on normal scenarios. It has sparked my own children's imaginations as they build legos, draw, and pretend outside.
See above… all of Chris Van Dusen's books have made it onto our best picture books list.
Sorry, this is another silly book, we like what we like. All of Mo Willems' books are so cute and make us giggle every time. They are written in comic book form with one picture per page, so they have been the first books I use to read "with" the kids because they want to read the words so so so badly!
(Plus, here's 7 books for the Christian woman that I've loved!)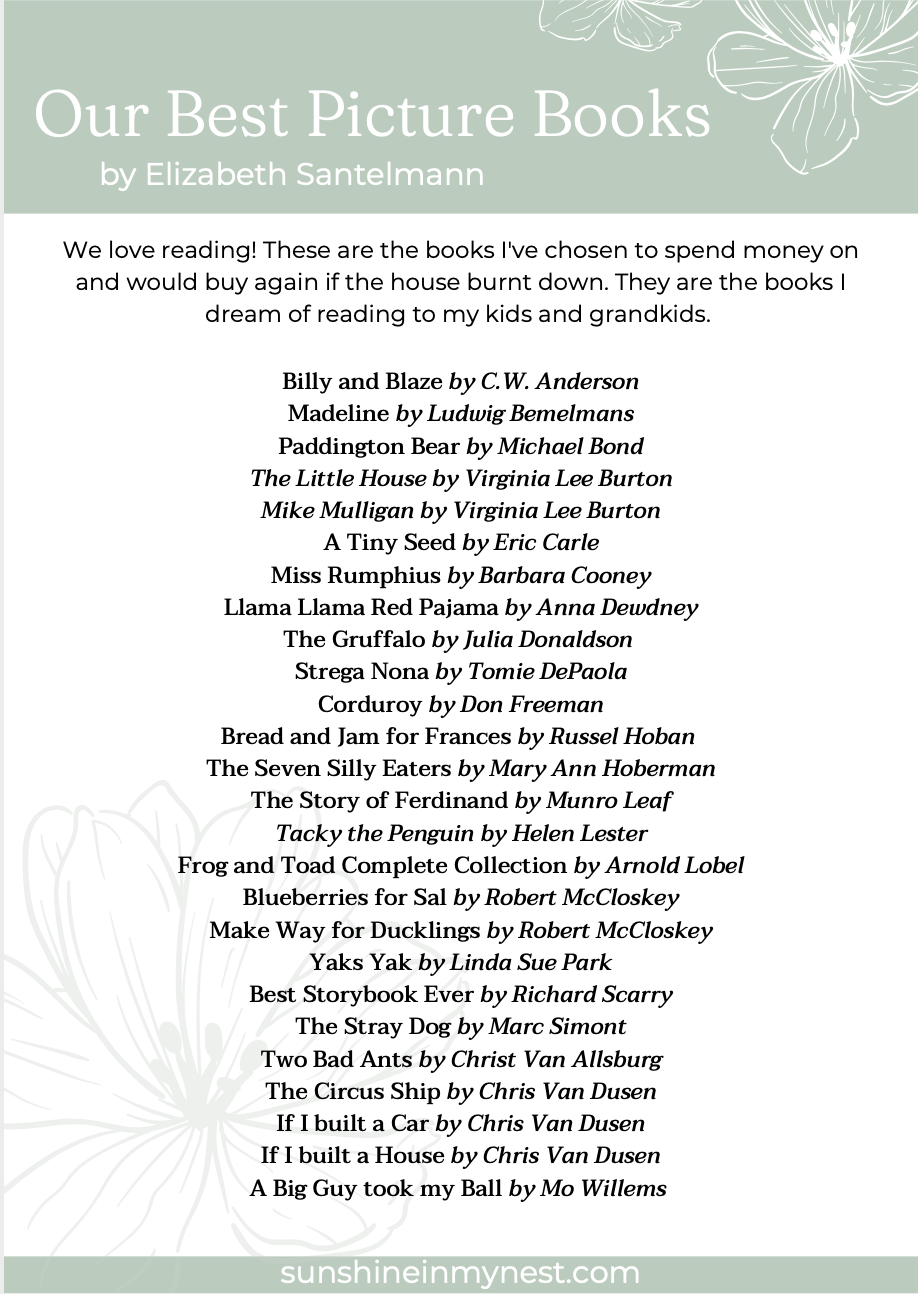 These are our best picture books to return to