"You were pregnant" my Ava app reminds me as I reset my settings to "trying to conceive". Another reminder that I had a miscarriage.

Last Monday it was easier to share with you God's faithfulness. Even with all the trials we've had this year, secondary infertility, the tree on our house, our car being totaled at the most inconvenient time. But Monday I was holding our little baby in my belly. It seemed as though a good thing had been gifted to us in the middle of the stormy months.

But now we've had to say good-bye. I keep quoting over and over to myself the verse from Job "Though he slay me, yet will I trust him." I have no clue what the purpose is in this pain. Grief is messy. It would be lies to say I've arrived in a place to true peace or trust. I do know He is good when all seems wrong.
What do you do if it feels like you have nothing to be grateful for?
What to do next?
Thanksgiving is coming. With it comes the time we all gather around the table and say what we are thankful for. Even thinking about hearing how everyone else has been blessed makes me feel like I want to scream. What do you do if life has handed you lemons, an entire year of lemons?

My tag line when I started this blog was "Not all moments of motherhood are beautiful, but when I look for the Sunshine in my Nest, gratefulness happens"

𝐍𝐨𝐰 𝐈 𝐠𝐞𝐭 𝐭𝐨 𝐩𝐫𝐚𝐜𝐭𝐢𝐜𝐞 𝐭𝐡𝐚𝐭.
•The beauty of a tree clinging to its final autumn leaf.
•Cedric's delight in discovering fuzzy moss.
•The crackle of the record player crooning in the background of our home.
•The flicker of a candle.

I may not be able to be broadly grateful this year. The skies are so dark this year but slipping through the clouds are tiny bits of sunshine to hold.
Something to Hold

With an early miscarriage you have nothing to remember your lost baby by. There are no sonogram photos, no baby clothes already bought, no stuffed animals. I sobbed my heart out when I realized I had even thrown away the positive pregnancy tests.

There were hospital bracelets, and a photo of the empty bed before we left, but those were things to mark the death. I had nothing to mark the life of this small person that I wanted and loved so much. Even though our tiny one was only here on this earth with me for such a few short weeks, I want to remember how happy i was to carry and hold this little baby.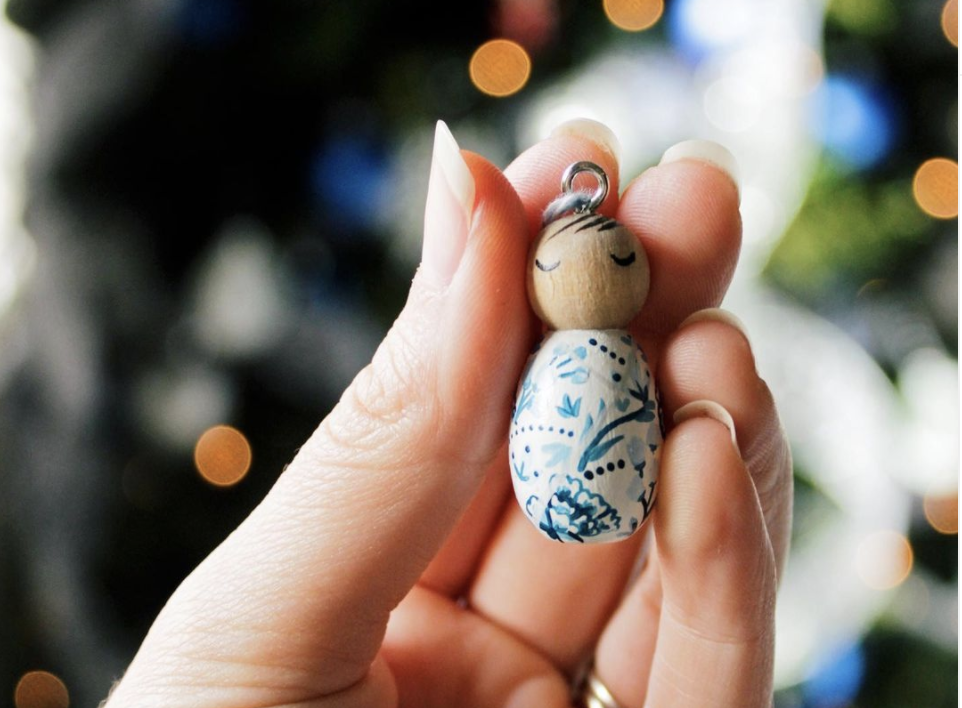 Something to remember

The days after we lost our baby I franticly looked for something beautiful to remember him by. It was near Christmas, so I looked at ornaments. I thought about something to set out. I almost bought a stuffie. But to buy a lovie that will never be cuddled by tiny arms is the saddest thought. I can't even tell you what I googled that lead me to Etsy and and artist that paints these beautiful, customized, babies. All I know is they are perfect.
This was the perfect way to remember my baby, but I thought it might not fit everyone, so I asked others how they've remembered their losses. Here's the list of things I was told.
Two peas in a pod necklace for lost twins
Ring with a heart
Candle light memorial with friends
Framed art
Christmas ornament
Bird's nest with eggs
Stuffed animal
A drawing
Painting of Jesus holding the baby
Plant a tree or flower
Embroidered blanket
You can find the story of our miscarriage here. Or, find this post on the spiritual drought of motherhood.