I used to do this photo with a big bump. I loved having my baby nested inside me, but all that stretching did a number on my muscles. After delivery the pelvic floor is very weak and often the muscles in a pregnant woman's abdomen come apart to make room for the baby. Unless you work to heal the split, it can end up becoming the dreaded mom pooch that we see in older women. (Learn how to check here)
You can heal the muscles by a combination of exercise and postpartum wrapping. Even after wrapping these muscles remain delicate until you've finished breastfeeding. It's important to refrain from doing sit-ups and table exercises while you are nursing your baby! Even just sitting up from bed it is important to roll to the side before sitting up.
Speaking of new mamas — here is a gift guide for the minimalistic mama in your life!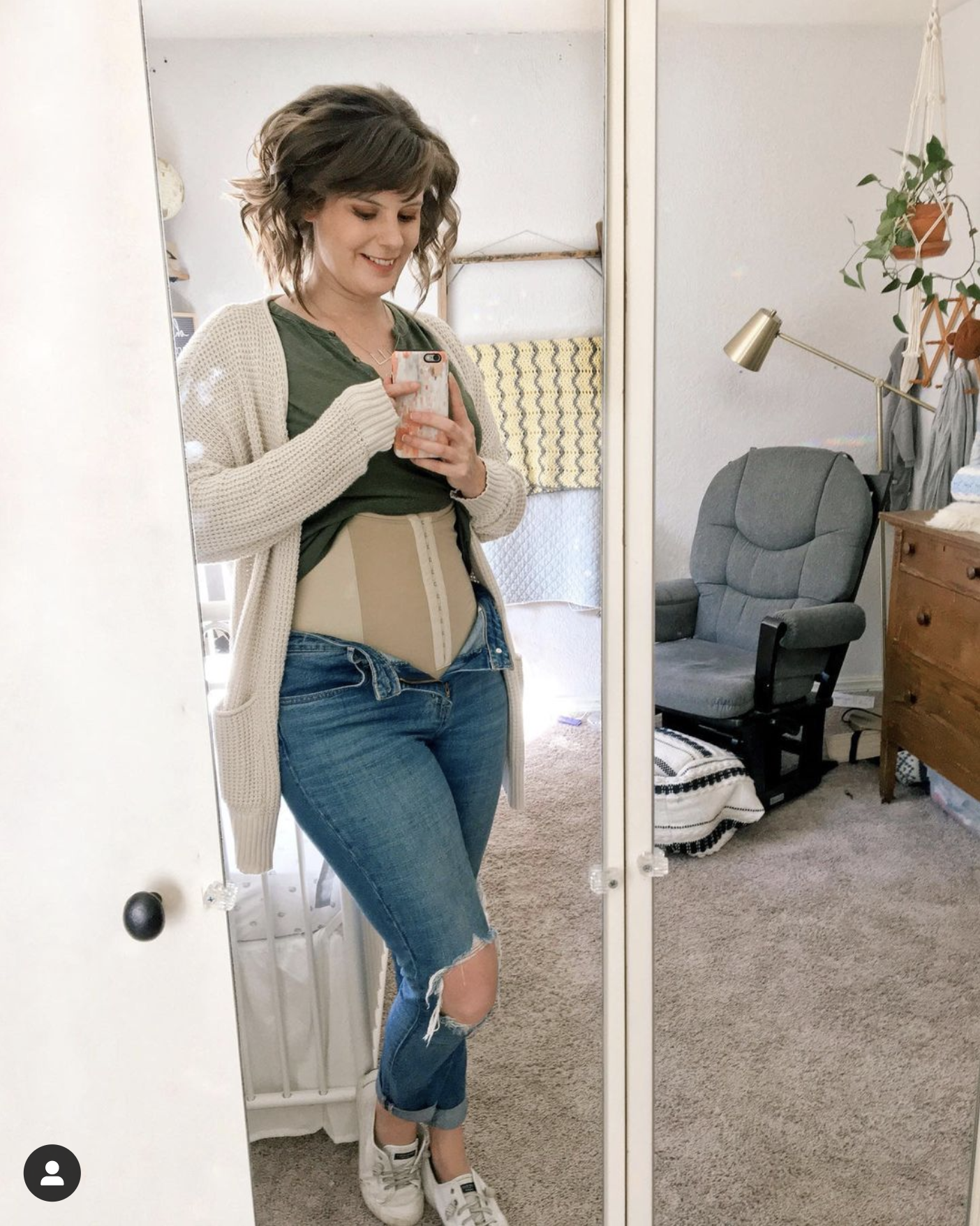 What is Postpartum Wrapping

Postpartum wrapping is an old tradition. It pulls together the muscles that have been weakened by a lack of core engagement. The tightness of the wrap pulls together the separation of the abs called diastasis (responsible for the "mom pooch"). You can begin wrapping in the hospital, and wrapping is beneficial for the first 3 months!!
If you ask your doctor, they may have a cheaper wrap that is larger for you to use the first few days. They routinely give them out to C-section mamas, but it can be helpful for those of us who deliver vaginally also. There's so much fluid the first few days it is nice not to worry about getting your more expensive wrap dirty. Also, the first week your body changes drastically, so unless you want to buy two or three sizes, a cheap hospital wrap will work fine.

Two of my births have been in cooler weather, and one at the end of summer. Wrapping during the summer wasn't a ton of fun, but I tended to do it anyway because I had less back pain. Now that it's cooling off it also makes me feel more supported. I have found my jeans don't cut into the extra loose skin that is still shrinking, so things feel better. It also makes my side smoother and prevents the muffin top the loose skin that would otherwise form.

A side benefit I didn't expect was that for some reason my digestion worked better when I was wearing it. (If you know why, please tell me); one other thing I've learned from otherhood is the beautiful way the Gospel permeates it!)

Finding the right Postpartum Wrap
I've tried a lot of different postpartum wraps. I was first introduced to the concept of postpartum wrapping when an older mama from church gave me "the cinch" (do you remember seeing those in Motherhood Maternity back in the day?). Sadly, even with my short torso, it was still too short, and I spilled out the top and bottom. Not a comfy or flattering look… 😬

When I got pregnant with Cedric, I knew I wanted to wrap, but knew I didn't want to use that one. I researched what brands were best and bought a bamboo Belly Bandit and a Bellefit wrap.

The Belly Bandit is a stiff rectangle elastic that has Velcro on the ends. I thought it would be my favorite, but it ended up bunching on the sides because as women we have curved waists. It also didn't provide much size diversity, so I also shrank out of it quickly. I sewed extra Velcro strips to mine. That prolonged the time I could wear it, but not much longer.

The Bellefit Postpartum Girdle Corset ended up being my favorite that time because it shaped to my body. I'm tall so I still had spillage at the top, but it was by far the most comfortable. So much so that I KNEW I wanted to wear it again this time!
With the birth of our third baby, I decided to try the Bodysuit Corset from Bellefit. Out of the six types I've tried it is by far my favorite. I like it best because it doesn't cut into my body anywhere. It's smooth and doesn't leave lines!
(You know I believe in wrapping when I include it in my minimal capsule wardrobe!)
The best of the 6 I tried
If you have a limited budget any wrapping is better than no wrapping, but out of all the wraps I've tried The Bellefit Bodysuit Corset is the most comfortable.

Do you have experience with postpartum wrapping?? If so, how did you like it done best?