The Gospel for Postpartum Bodies
I look down at my toddler curled up on my soft belly. My hair has almost grown back into the bald patches from a year ago. Folds of skin stretched by his once growing body now form a cushion. Breastfeeding has deflated my breasts. Everyday advertisements pop up in my Instagram feed with new workout programs, and meal plans, none of which I have time for as I feed growing children nutritious food, educate my older children, and keep my youngest from jumping off the nearest table.
The work of becoming a mother had erased many things that the world used to define my worth. The odds of fully recovering it without extended hours in the gym and a celebrity eating plan are slim to none.
(Here are 4 verses I cling too when motherhood is exhausting and hard …)
Paper Thin Comforts
Of course, there are new movements of people telling me I have "earned my tiger stripes". Or say that I am beautiful for what I have created inside of me. The church may tell me that my beauty comes from the inside, but I can't help but notice there is no one begging plastic surgeons to stretch their skin. The latest hair treatments do not offer bald spots on your head or make your skin saggy. These messages used to comfort me are paper-thin at best. Mostly though these trivial lines made me feel even worse for feeling bad about myself, because it is not the gospel for postpartum bodies.
Created for Beauty
We are created to enjoy beauty. We rejoice in coordinating colors, a breathtaking view from a mountain, and sunsets on a winter night. In it, we are to see the beauty of a creator and rejoice in him. "When God saw the world he declared it "good"." (Gen 1:31)
But sin like everything else has corrupted our ability to marvel in the work of God. He created us to reflect himself, but sadly sin with the curse brought slow destruction to every living thing. Our cells blossom and grow into adulthood and then slowly decay and drift away.
Our bodies are not exempt from that. All of us are becoming more broken as time passes. We each feel the effects of sin on our lives in a very real and daily sort of way. Our muscles get weaker, eyes dim, boobs sag, and stomachs get softer.
The Gospel in Aging
As we grow weaker and we see the effects of sin and decay it reminds me that after God saw the world good, and sin destroyed that perfect plan. But God in his love didn't leave things there.
Christ defeated death. Even in the slow march of time to the end of this life as we know it we have hope! Christ will make us new!! (2 Cor 5:17) We don't have to hold our hope in this earthly body that is now slowly moving to death. Christ through his work on the cross is carrying us toward the new heaven and new earth and the perfect bodies he had planned for us from before the beginning of time. We reflect his glory dimly in these current bodies, but then we shall know him as he is known and bear his image more perfectly. (I Cor 13:12)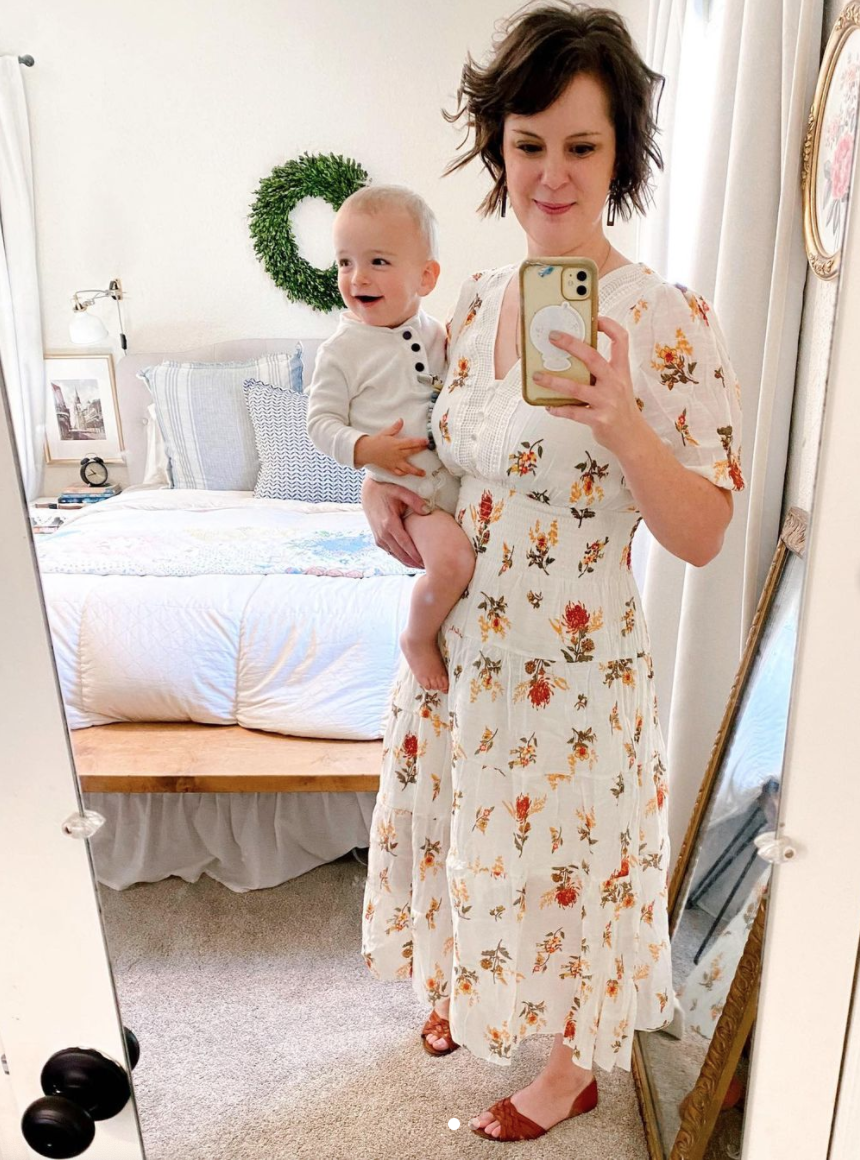 Aging Produces Fruit of Gospel for Postpartum Bodies
For me it all clicked when my beautiful, vibrant grandmother died of an aneurysm, a year later my husband's grandmother developed health issues that caused her to lose her ability to care for herself. These two lovely, strong women moved from enjoying time with their grandchildren and great-grandchildren, to having a passionate longing for Heaven!
In a believer, aging and brokenness bring forth sanctification. Our call is to sanctification. When responded to in faith, the difficulties and trials along the way draw us closer to the knowledge of our dependence on a Savior. If the amount of dependence on Christ I have now as a young woman, is all I have to take me through old age and the valley of death, I will crumble with the weight. Superficial idols and self-dependence are slowly being taken from my heart. Leaving behind humility and dependence on the cross.
His Strength Becomes Stronger
Even in these small ways as my body weakens, my inner beauty strengthens. This way, godly character is being developed in my heart. As I become weaker it requires me to press more closely into the one who created me and will sustain me into eternal life. The weakness causes me to look to eternity. I can rejoice to know that "He who begun a good work in you, will carry it on until completion." when He calls me to Himself. (Phil 1:6) I can find His perfect beauty forever in His presence. This is the gospel for postpartum bodies.
"By our tribulations, God weans us from excessive love of this present life." – Calvin's Institutes