Homeschool Field Trips in Oklahoma City
I know these aren't all the field trips in Oklahoma City, but I've categorized them by ones in Oklahoma City proper, and ones in the state generally. This list was curated by several local homeschool groups, so I can't take full credit. When I told them about this project and they all piled in ideas to triple what I had compiled. Enjoy this list from dozens of homeschool moms! (Visit this post of OKC co-op details I've collected!)
I've included must-know notes from the locals that will help you get the most from your experience.
Places I've Been and Notes
Science Museum Oklahoma
The cost of admission is a bit steep on this Oklahoma classic, but if you have older kids going for the day is great! If you live local you can get cheaper year-long passes at Mathis Brothers usually in October. By going even 3 times they pay for themselves. If you are only going to stay a couple of hours going from 3 to 5 allows you to miss all the kids on field trips. You get the place to yourself. Be sure to check out Curiocity if you want to wear your kids out for bedtime.
National Cowboy & Western Heritage Museum
I didn't realize but for the LIVE history performances, you can register yourself as a school when you homeschool. If you try to go as a group it will cost, but if you do it yourself you can get in free with your kids. When you are finished with the performance, you can tour the other areas for free. If you have young kids, be sure to check out the outdoor area it has all kinds of western dwellings to play in!
Edmond Historical Society
This is a hidden gem, well hidden to me, since then I've discovered everyone from here knows that it exists, but I sure didn't. In this lovely little nondescript building, they have a whole kid-style western village set up. Be sure to go with friends because it's so much fun to pretend together.
Harn Homestead
We visited out here a couple of years ago with some friends. It's set up with original buildings. The kid's favorite was a schoolhouse. They even did a fake class. The second favorite was a farmhouse where kids could play with everything. There were old kitchen gadgets and old-fashioned toys. The most mind-blowing to me was the log house. I will never get over what tiny spaces families of 12 lived in.
Usually, you have to pay admission, but if you follow their Facebook page they have announced free days in the past. I think the one we went to was in March. I've heard they do it a couple of times a year, but somehow since then, I've missed the memo.
Martin Nature Park
Exploring nature is a ton of fun, but you might not know they also have an incredible little museum on site. It's a one-room thing, but there are live animals that are rescued for a variety of reasons. While they are undergoing medical attention, they are visible to the public. There is usually staff available to ask questions, and also some information about local animals and habitats.
Express Ranches Clydesdale Center
Okay, so in full transparency I didn't get to go on this tour. We drove out there and realized post-Covid we needed an appointment to get in. It looked so cool though and it wasn't as far out as it feels like when looking at a map. Just a warning drive slow on the back roads because there are some HUGE potholes.
45th Infantry Division Museum
This is a museum I remember visiting as a child. They have some WWII setups to visit as well as old-fashioned weapons. There are tanks in front of the museum. If you have a pre-teen that loves war history this may be the perfect place to visit.
The American Pigeon Museum
I'm listing this one here for us to visit later. I haven't been, but it sounds fun and it's on my bucket list of places to take the boys now.
Parkhurst Pumpkin Patch
Parkhurst is best if you go early in the season. It's just close enough to the city that it's pretty high traffic, but less expensive than Orr Family farm. If you want the true country experience make your way out to Rustic Roots. It's about an hour's drive, but they have so much for you to do that it's worth the time.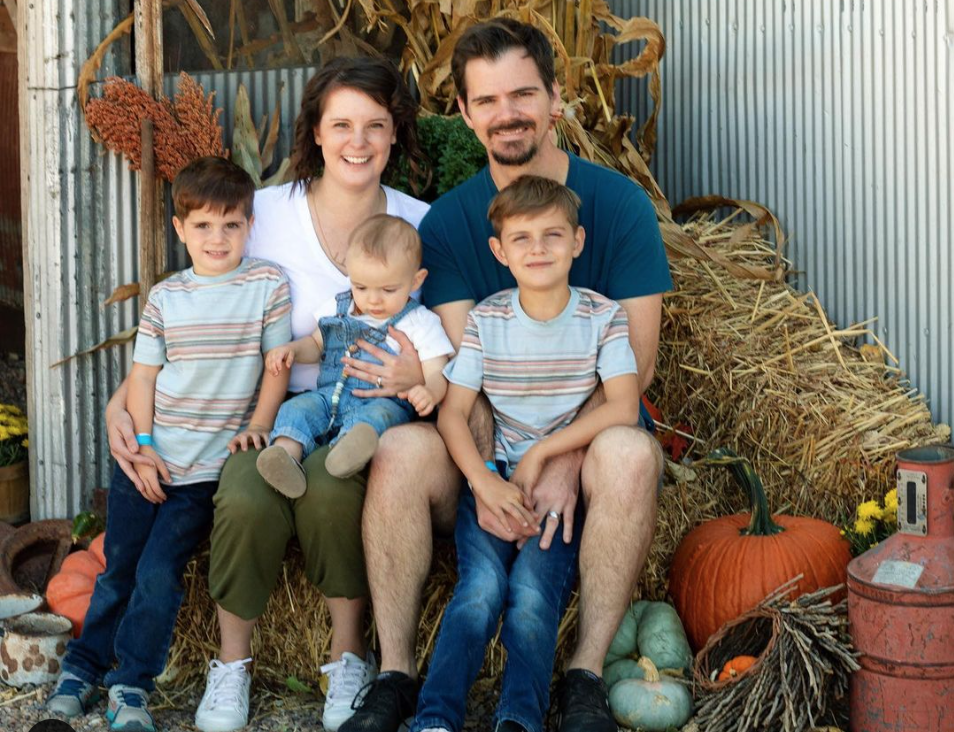 OKC National Memorial
If you're going through the museum it's best to take older kids. As to be expected there are a lot of graphic images of kids dying. They've done a beautiful job of taking you through the day, and my older niece who usually hates museums was so wrapped up that we had to remind her to keep walking. With little kids, we have loved walking the grounds. There's a neat memorial chalk area.
Myriad Children's Garden
Has programs off and on. As of this writing, there is a needle felting activity coming up. In the fall they host Pumpkinville. If you live close it's worth paying for the passes. We nearly lived there during our apartment stay. There was plenty for the kids to do.
Scissortail Park
Has all kinds of events. During the summer there is a farmer's market, but off and on through the year there are a lot of children's learning activities. If nothing use school hours to play on the HUGE playground while it's less busy.
When we went it was for a special exhibit, however, the blown glass features ended up being the favorites of my children. It is absolutely stunning and as a plus, it wasn't a traveling exhibit.
This has been an event that I've heard homeschool friends talk about for a long time. It's a feature of OKC families but for school-aged children only. The child-size village provides a setting where children can prepare and practice real-life situations. The Children's Safety Village is complete with a city park, buildings, streets, traffic lights, and vehicles.
(Plus, we love the state fair every year and make it a family tradition!)
Places on our Bucketlist to Visit
Everything is automated so it's so much fun to watch and see how they sort and ship out books!
You can watch them make ice cream, ice cream cones, cookies, milk and so much more during a Braum's factory tour. Braum's ice cream factory, bakery, and farm tours are scheduled Monday through Friday at 9:00 a.m. or 11:00 a.m. Reservations are required and space is limited, so we ask that you make your reservations well in advance. We are currently booking for this month and the next two months only. If your kids have allergies be aware that a sweet treat is given at the end of the tour!
I remember visiting here years ago as an after-school program director, but it's been years. The website doesn't have concise information, but there are a lot of photos to give you an idea of what you're getting into. There is a really fun children's area at the end
Focusing on the form and function of the skeletal system, our museums display hundreds of skulls and skeletons from all corners of the world. Exhibits include adaptation, locomotion, classification and diversity of the vertebrate kingdom.
They have pretty limited hours, but if you call ahead they are willing to work with your timing!! I've heard glowing reports of visits here and hope to add it to my kid's list of experiences this year!
First American Museum seeks to inspire respect for and respectful curiosity about the 39 tribes in Oklahoma today. If you can get a group of 10+ kids they will offer the group rate.
Has a long list of programs to attend. There are free exhibitions and related programming, performances, innovative Studio School classes, and workshops for adults and teens, and free weekly programs, including artist talks, panel discussions, live music, dance, poetry, film screenings, hands-on making activities, and more
Is a learning center exploring Oklahoma's unique history of Native culture, pioneers, aviation, commerce, and more. The Oklahoma History Center is a Smithsonian Affiliate and is accredited by the American Alliance of Museums.
This is where kids can go to learn how glass is blown! Blue Sage Studios is open to the public. Folks are welcome to come by and watch them work anytime. The calendar on their website reflects when artists are scheduled to be working in the studio.
Admission is free (donations welcome). The OKC Rattlesnake + Venom Museum is intended for both conservation and education. They feature a selection of venomous snakes and lizards from around the world as well as all of the venomous snakes of Oklahoma.
Admission to the museum is free. Donations are welcomed. Train rides require ticket purchases. They have freight cars, passenger cars, and even a real steam engine on display. 
Conscious Community Co-op
I have been told is a great resource for anything your kids want to know about gardening, supply chain, animal husbandry, etc. They do community education programming and they are connected to every type of local and national farmer/rancher you can think of.
The State Capitol
Governor's Mansion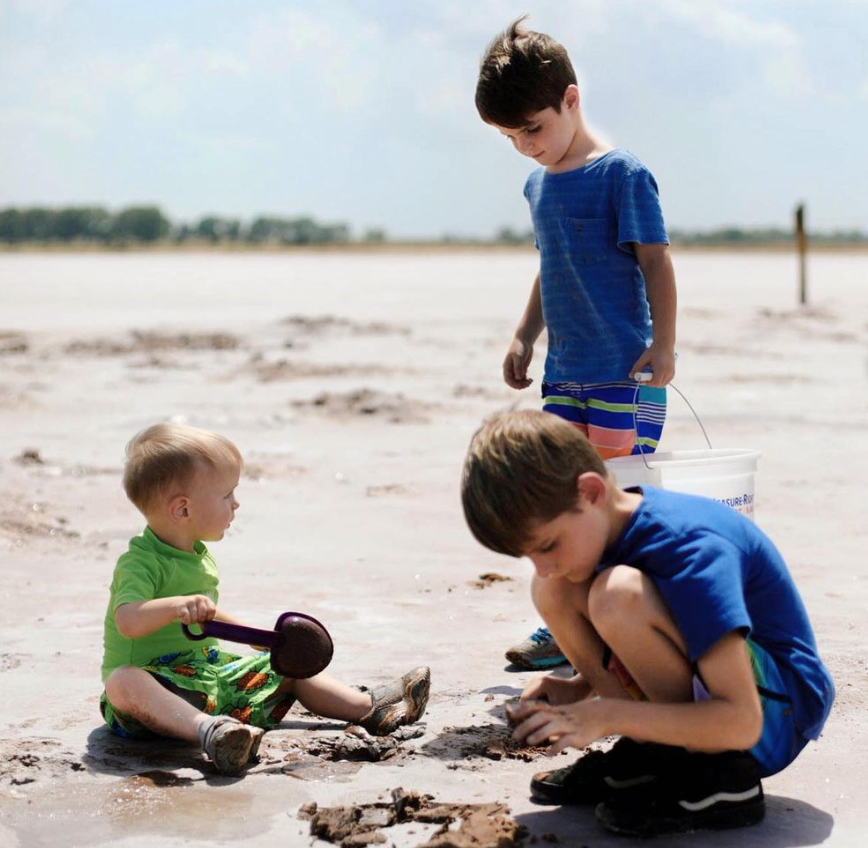 Outside Oklahoma City Metro
Oklahoma Salt Plains
This is located in Jet, Oklahoma. We visited here in the Summer of 2022 with a one-year-old baby. This was less than ideal. Our eight-year-old had a blast and the five-year-old was on the fence. If you have 8-12-year-olds I think this would be ideal. There is a hiking trail as well as an area to dig for crystals. Check the weather report though because wind speed in this flat area makes a huge difference.
Choctaw Cultural Center
Located in Calera, OK. This cultural center is so much fun for all ages. We went during their anniversary event and had a blast. They had rabbit stick throwing, pottery, blow guns, stickball demonstration, authentic foods, and chocolate making. In my opinion, it was well worth the drive down. (they did pay for an Instagram post, but not this review, it is all my own.) I'm so glad we went!
Is in Enid, Oklahoma. Has more than ONE HUNDRED hands-on activities for children. Their Adventure Quest is an outdoor science playground.
Is located between Stillwater and Tulsa, Oklahoma. They are a USDA-certified Exotic Animal Park that has been open for eight seasons now and is under new ownership, so be sure to call to check times before heading in that direction.
Is located in Weatherford, Oklahoma. The museum is considered one of the finest and most comprehensive air and space museums in the central United States and encompasses 63,000 sq. ft. of exhibits under one roof!
Is located in Seminole, Oklahoma. The museum offers children an opportunity to explore the world of work through many of our career-based exhibits. Young visitors can be a judge, a doctor, an artist, a news anchors, a meteorologist, an actor/actress, a pilot, an EMT, a firefighter, and much more. 
Is located in Sulphur, Oklahoma. It is a place to learn and embrace the rich history and traditions of the Chickasaw Nation. It stands as one of the largest tribal cultural centers in the United States. They have a wide variety of events throughout the year, so keep an eye out. The recreation area is right there for camping and hiking as well.
Long Shadows Ranch
The owner reached out to invite homeschool families. She said they have a free day every month, usually the last Monday.
Is located in Gutherie, Oklahoma. The museum documents the creation of the Unassigned Lands, the Land Run of 1889, the homestead experience, and territorial and state government. The history of Guthrie is told as the capital city of the territorial government and the first state capital.
Lawton
Wichita Mountains Wildlife Refuge
Drive to the top of Mt. Scott. We loved hiking and camping. There is a prairie dog town to visit as well as some neat structures one of which is Holy City. Tons of bison roam right next to the road and depending on what time of year you visit there will likely be tons of wildflowers. There are several easy launching points for kayaks.
Medicine Park
We have stayed at a cabin in this adorable town right next to the Wichita Mountain Wildlife Refuge many times over the last 6 years. The town keeps getting better and better. All the buildings are made out of local round rock. There is delicious ice cream, an adorable coffee shop, and a children's toy shop. (this list likely needs updating because we haven't visited yet this year.)
Is located in Fort Sill, Oklahoma. You will need to visit the Fort Sill Visitor Control Center off of Sheridan Road to get a visitor's pass if you do not have a military ID.
The Museum of the Great Plains in Lawton
Is a favorite of one of the homeschool moms from the group I asked. She said it's never busy. They have a tipi, bison to assemble, general store, leatherwork shop, printing press, chuck wagon, settler's tent, plus the normal science museum things like blocks, light bright, etc.
With all this driving you'll want to know what organized car essentials make for the best road trips!)