Art Lesson for Valentine's Day
Have you been looking for a simple art lesson for Valentine's Day?
So many of the crafts I see are really commercial-looking. They are cute but often cater to one age and they often need a lot of planning ahead, so you can buy the pieces needed. I'm guessing you can tell commercialized holiday art projects annoy me a tiny bit. I never plan ahead for them, but then at the same time, I kind of want to do them. The other problem they tend to present is they are either too complicated for little tiny ones or too boring for older kids.
This art project takes items you have in your home, combines them with seasonal colors to make a Valentine's Day craft that will be fun for your kids of all ages. I even wanted to join in.
(Check out the simple and sweet Valentine gift I out together for the children this year!)
Supplies for your art lesson for Valentine's Day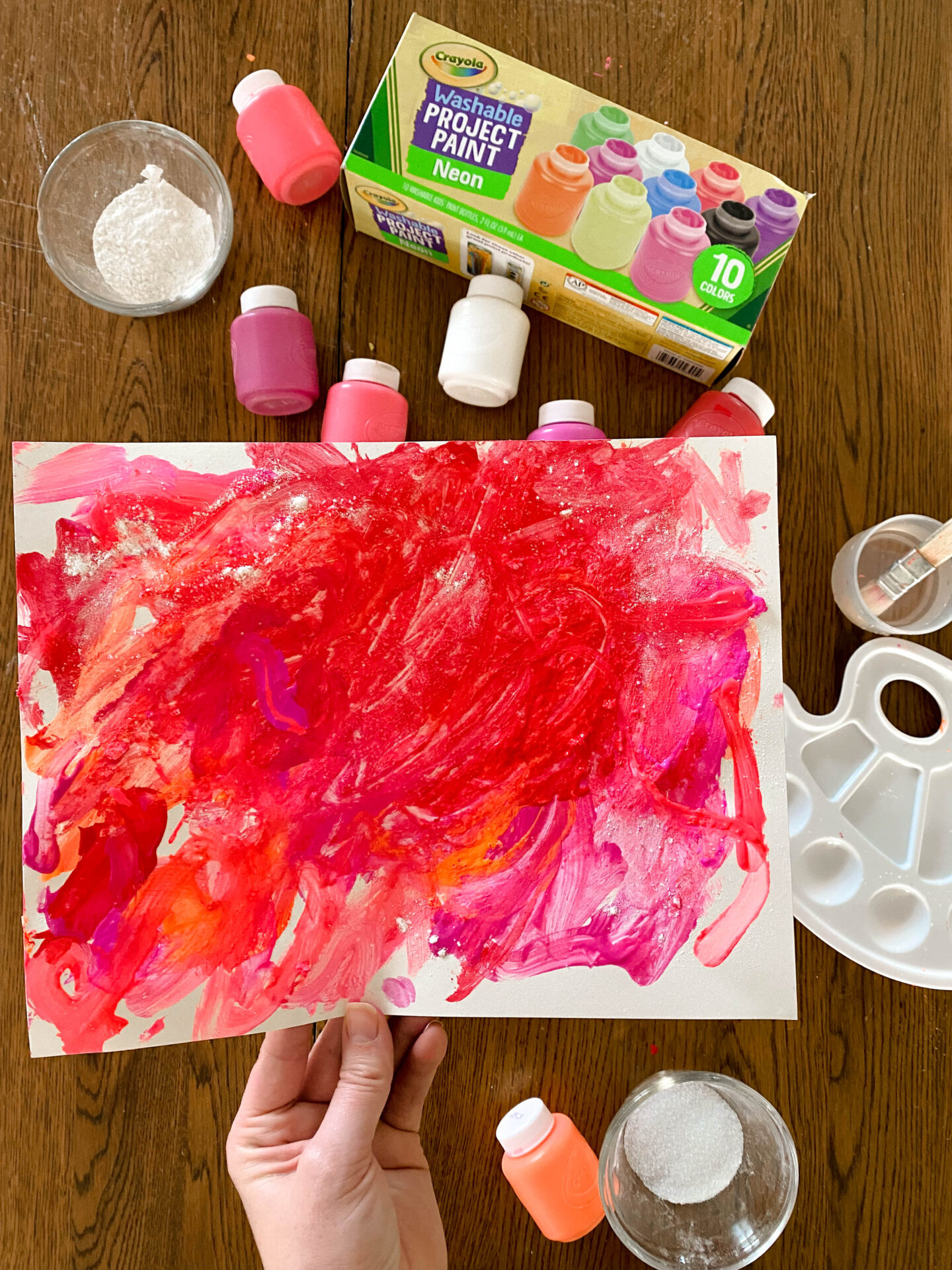 The supplies needed for this was
Kid washable paint pots (in pinks and reds. The Crayola NEON set has a ton of pinks)
Paintbrushes
Palettes
Cup of water for rinsing
Flour
Salt
Egg Shells (optional)
Sand
Dirt
Anything with textures
The kids will paint with their brushes. They can sprinkle the textures into the paint, or they can mix the textures into the paint and apply them with a knife or large brush. It depends on what you have the supplies and patience for!
For the baby I didn't want to clean up a huge mess, so I took the colors, put them on a bit of thick paper, and stuck the whole thing in a Quart Ziplock bag! He rubbed it around and had a blast
Combine with Art History
If you care to combine this activity with art history, we have used the book "Discovering Great Artists" by MaryAnn F. Khol. This style of painting is done in the manner of Berthe Morisot! She was a female artist from the 1800s who used textures in her painting! When I include art history I usually Google the name of the artist, click images, and then swipe through to see some of their greatest works.
(Plus, check out our favorite Valentine-themed picture books!)
If you're looking for a list of additional indoor activities to do with kids you can find them here!! Or if you want something more Valentine's Day themed find it here. And, for the adults, here is a fun, OKC Valentine gift guide!
What are some of your favorite ways to study art? Is it something you do often with your kids?