Sometimes cold weather can feel so long. Past years I have purchased tickets to our local science museum. This year I forgot to buy them while they were discounted in October, so I guess I'll just manage the best I can with indoor games here at home. A few days ago I was feeling stuck in a rut and decided to ask for ideas on things to do inside with the kids. I ended up with 21 favorite finds for inside play that I wanted to share with you. 
Craft day – One idea was to make a rectangle and paint or cut shapes for a picture window view. As kids, we used to create underwater scenes with construction paper. We would cut seaweed, rocks, and fish out to create a construction paper view.
Blanket Fort
Bake something – we are in love with these cookies right now.
Indoor Scavenger Hunt – Sometimes we do I Spy to clean up an area.
Hide and Go Seek
Kid-Friendly Coffee shops
A making tape highway – The person who suggested this is my new hero because she does it under tables and upon wall too!!
Blow up Balloons – Extra points if you use paper plates to play badminton with them.
Look up DLTKS – this will give you printables for patterns to cut, homemade storybooks, Bible lessons, ABC, and more
Read Stories – If you're looking for a good book idea check out a post I wrote here.
Simple science experiments
Have a dance party –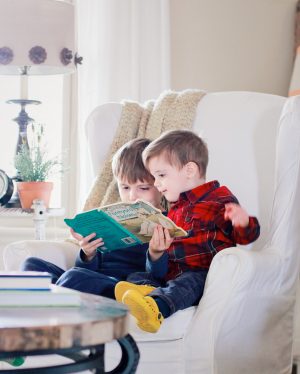 And here are a few of my own inside play ideas.
Obstacle course with string
Small Trampoline and crib mattress tumbling mats
Create hopscotch inside with masking tape
Blow up balloons, but don't tie them. Let go and see what balloon goes furthest.
Use toilet paper rolls and a ball to bowl.
If you want to get out for inside play on the cheap.
Chick-fil-a – Mommy buys a coffee, and the kids play all morning.
Barnes and Noble has a train track.
Lots of coffee shops will do a children's story hour. The one down the street from us is delightful.
If you have more ideas, feel free to drop them in the comments below.